ADIDAS DISPLAY MODULES
Type: Retail Display
Client: Adidas Originals
Location: Copenhagen, Denmark
Status: Completed, January 2020

The Copenhagen adidas Originals store is spatially treated with a general raw and honest approach to surfaces. Raw concrete, drywall with spackle and uncovered ventilation ducts set the general raw and honest tone. The long-lasting collaboration between Wood Wood and Spacon & X has fostered a wide range of retail solutions such as shop-in-shop, trade fairs and flagship stores around the world. Spacon & X is pleased to reveal the newest addition to the retail range; the first Wood Wood store in London (UK).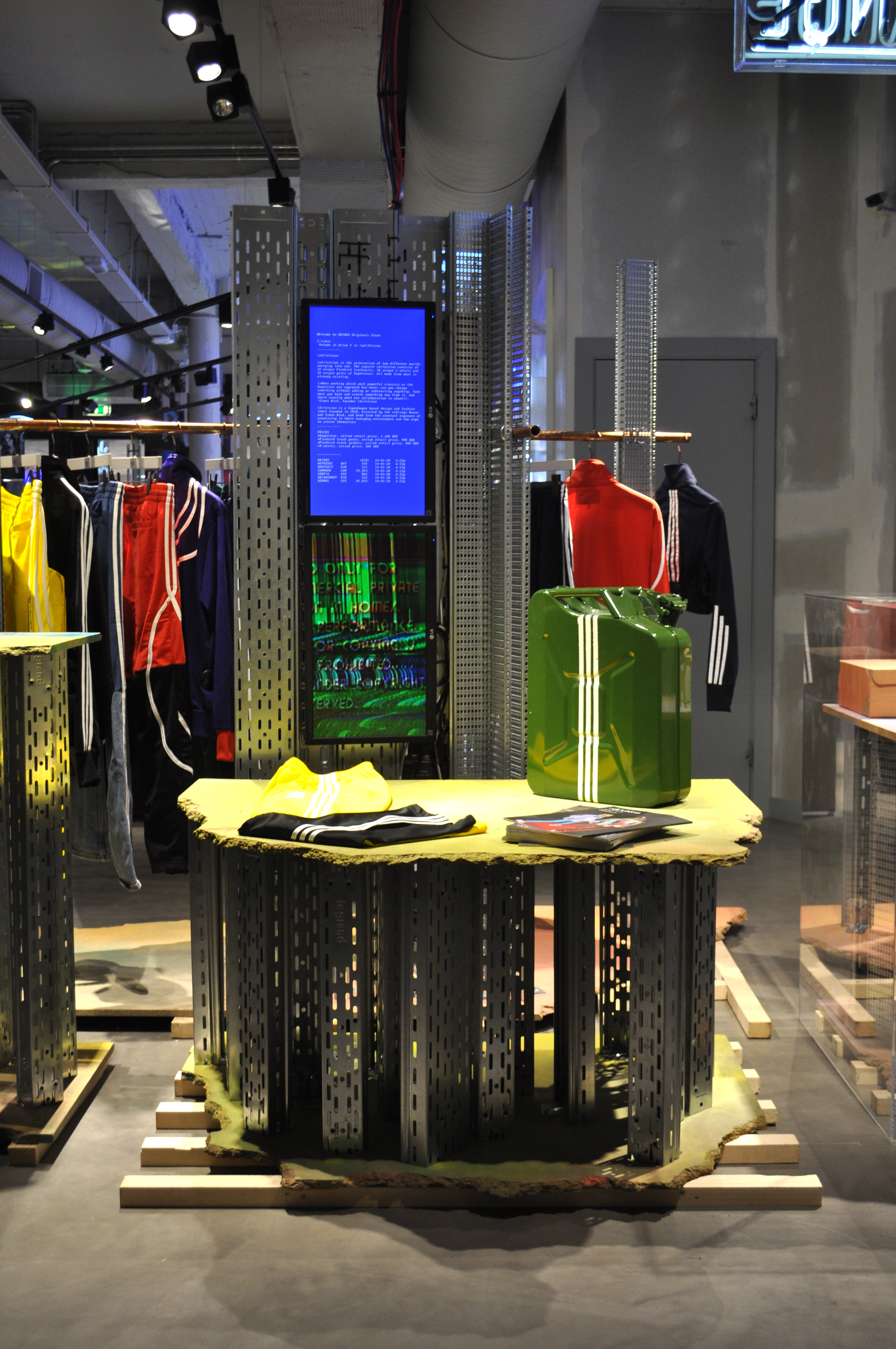 When working with exclusive drop displays, we found it important to seek out a balance between complementing and contrasting the overall look and feel of the store - something that stands out while being rooted in the same typology. Therefore, our solution balances rawness and honesty with a level of refinement and care. Cable trays have been introduced as a structural element, as well as a functional way to organize exposed cable line for light fixtures, and PC screens, with DOS interface and Atari style 80's and early 90's graphics.

Tied to the rawness and honesty of the existing store are the broken slabs of stone unevenly spray painted with a dusty layer. Moreover, the metal rails which are treated with heat and acid, to create an uneven "rainbow" surface look. The glass box is blown up in size and placed over the entire podium rather than on top to create a louder and more impactful effect to underline the exclusivity of the items displayed inside. The text description of the collaboration has been placed in black Helvetica right in front of the item exhibited.