CUSTOM LIVING


Type: Showroom, apartments
Client: Danica Pension
Location: Copenhagen, Denmark
Status: Completed, 2017
Photos by: Hans Bærholm

Exploring diverse constellations

Today we have 37 officially registered different Family constellations in Denmark. Many of these are currently moving towards the cities and in Copenhagen alone we need to find space for 45.000 new homes within the next 10 years.

However, most of these new homes seems to be designed for a homogenous family constellation, consisting of a mom, dad and a baby and an income considerably above average.The client needed to explore how spatial design solutions can transform these uniform apartments into spaces that can accommodate a more diverse constellation of residents.

With a standing point in two different apartments and two different families, the overall design challenge has been to establish flexible square meters, that will articulate the different and some times shifting needs of each family and of each family member.
Three different situations

For the step family we have focused on three different situations - the entrance, the children's room and the family's need for both a home-office and teenage room.

We have created a check-in furniture that assigns a certain place for every child in the family. This way they will always know where to put and find their things when the check in and out of the appartment every second week. The check-in furniture has been designed in one long line, with a seating spot just by the door to tie the shoes and a daybed in the other end, that transform the check-in furniture into the kitchen-dining area.

Further more, we have designed a vertical child room containing both two sleeping cabinets for the two smallest children, all their clothes and toy in cabinets underneath and finally, a sleeping couch to make room for the grandmother staying over og a cartoon-session with the children.

Finally a combination of pre-teen room and home office has been designed in the last room.
When the murphy-bed folds out, a girls room with room for poster, pictures and drawings in the back-side of the up-folded desk. Likewise - when the bed is stowed away and the desk er folded out, an office environment with folders, notepads and pens appears.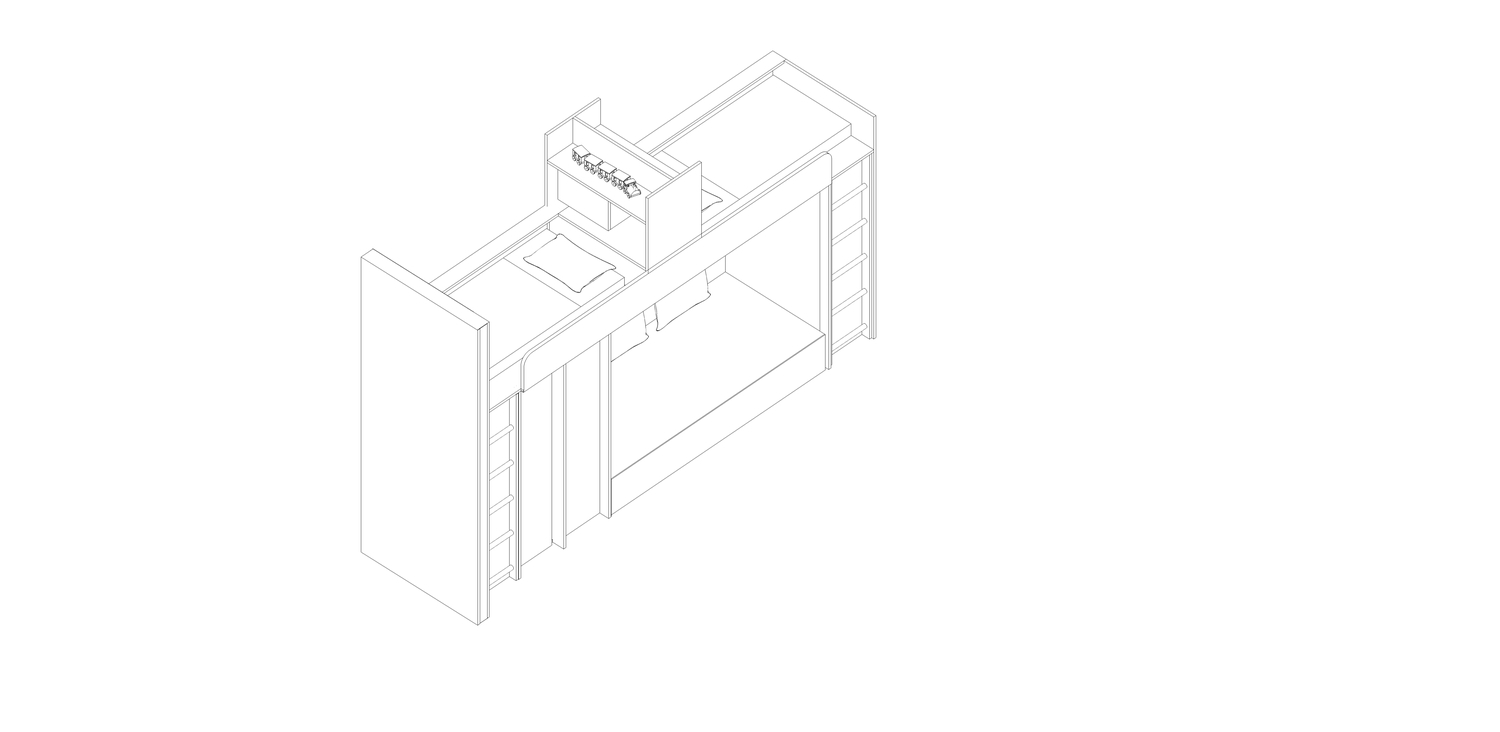 For the three generation family we have created an open and spacious common area, where the family can be together or find er individual spot. Further more, we have designed three different personal spaces like small apartments, which all have a personal check-in station for each family member. This way the grandmother avoids finding her fur scarf in the same drawer as the snowsuit and children's scarf, while the son has his own space for all of his stuff. Also, this creates the ritual of a check-in in, from the common space to the personal space.