FOLK KOMBUCHA
Type: Hospitality, Workspaces
Collaborator: Folk Kombucha
Location: Copenhagen, Denmark
Status: Completed, December, 2022

Photos by: Hedda Rysstad & Spacon & X

Folk Kombucha is one of the latest additions to the iconic Meatpacking District of Copenhagen, an area that has transformed into a cultural melting pot and creative cluster. Folk is a contemporary Nordic brewery that blends traditional fermentation techniques with science, infusing new life into an ancient beverage passed down through generations. Behind the spatial design is the creative studio Spacon & X that together with Folk designed a space that works beyond the conventional frames of a brewery by combining elements of science, technology, tradition and design - to create a space that allows to engage and share knowledge with the kombucha community and beyond.

The brewery aims to be used for a multitude of purposes with a strong sense of community as a core value that is transmitted into the spaces. Through workshops, events and collaborations Folk wants to be able to to engage and inspire like-minded companies and curious folk from the brewing world and beyond that was a key component of the creative brief that Spacon & X received.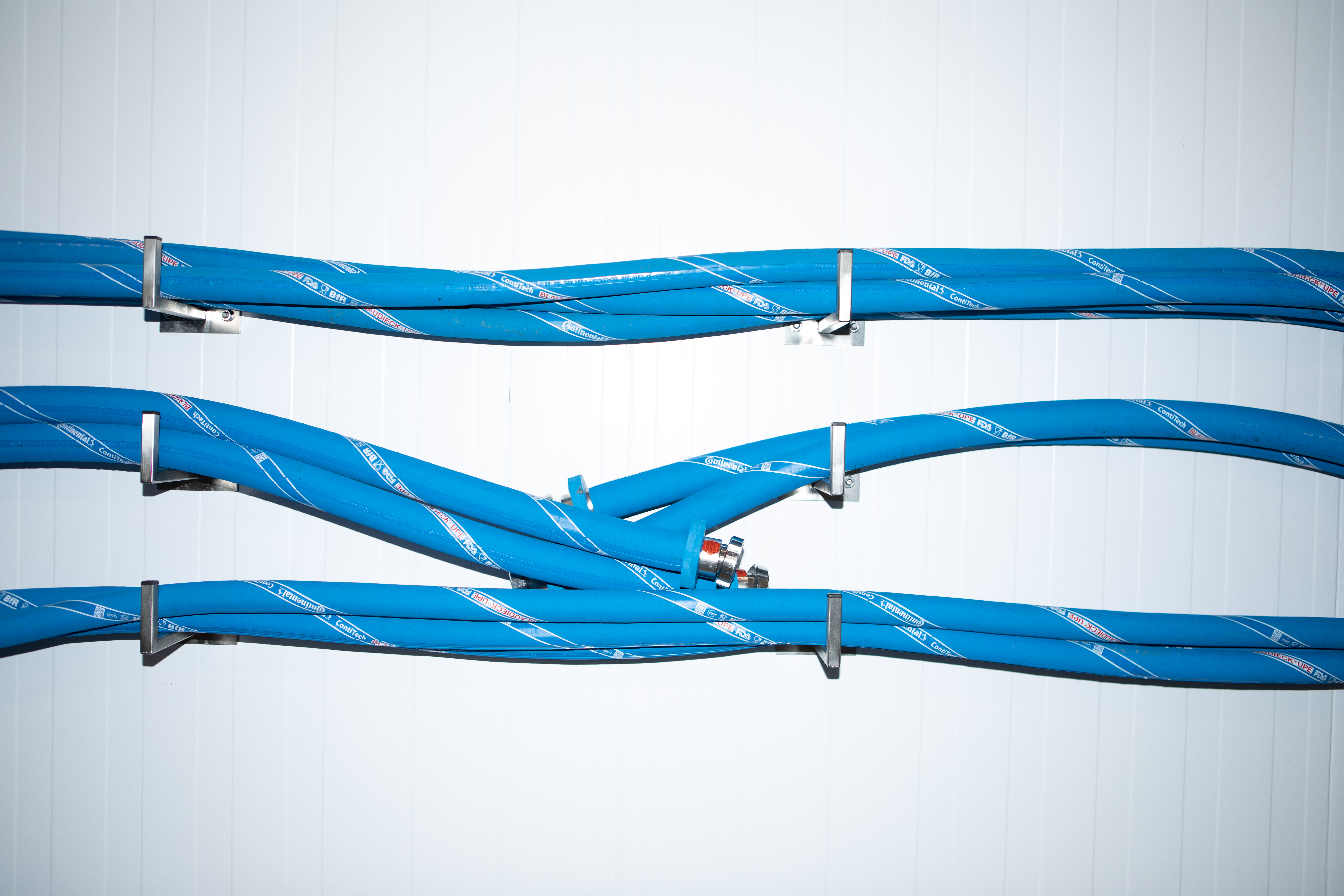 The spatial organisation of the Folk premises include a production space, offices, a lounge, event space. The 1930s functionalist and industrial buildings are listed and have a strong sense of character that Spacon & X aimed to preserve the existing qualities in a way that the visitor can see its different layers. Throughout the space, the archetypal Meatpacking white tile walls, and brown tile floors are kept, as well as the classic green marble floors known from Irma.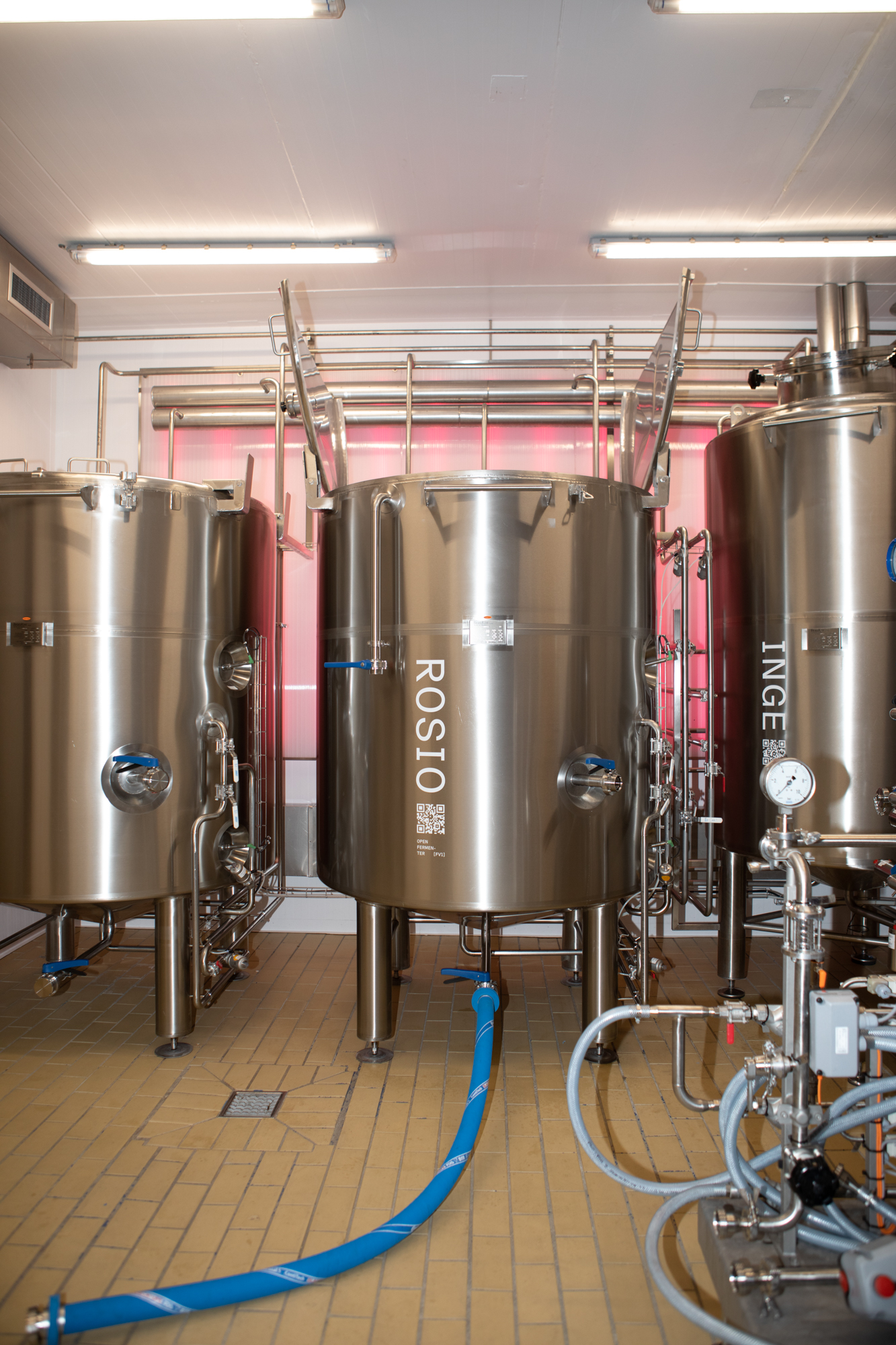 To pay a tribute to the premises' long history and transformation process, Spacon & X sought to find a balance between the industrial and organic, between the masculine and the feminine in the spatial design. As such, the spatial design resulted in one that resembles and preserves the listed buildings' strong sense of character in a combination with subtle, organic and innovative spatial solutions with functionality and its industrial nature as a guiding principle. This came to life in the way colours have been used as a spatial decision. The space is using a colour scale including Kødbyens signature cobalt blue, a warm orange that is a signal colour within industry combined with a more organic and feminine pink to highlight that it is a female-owned business. Moreover, to be able to stage the space according to its various activities, translucent surfaces that can change colour have been put behind the brewery tanks.
The industrial character of the space is enhanced by the production facilities as well as materials such as the stainless steel grids and custom steel benches. The stainless steel grids were furthermore combined with raw rubber top into tables and benches, that can endure the raw climate of the industrial production. Essentially, two stereotypically industrial materials put into a new context.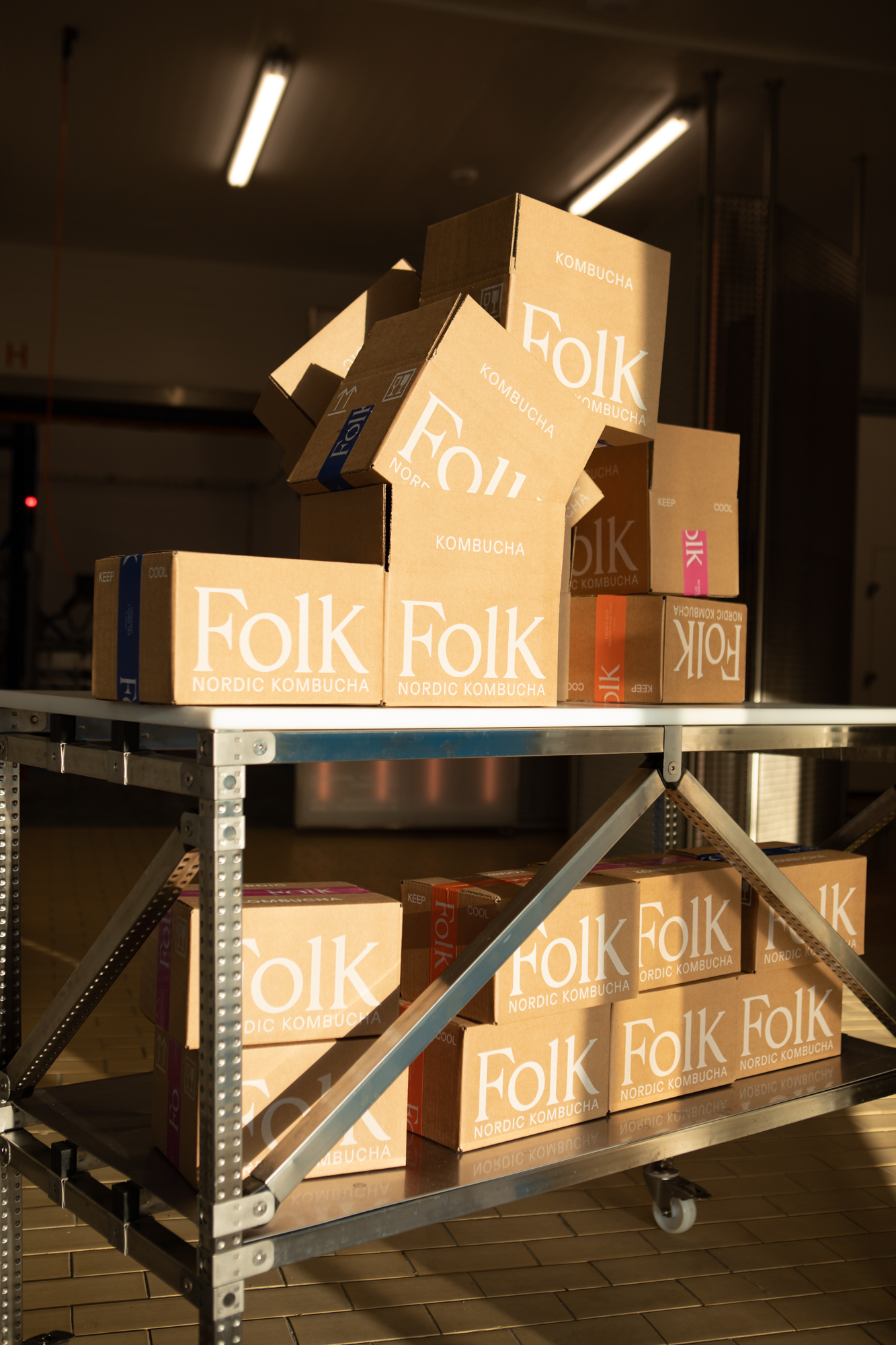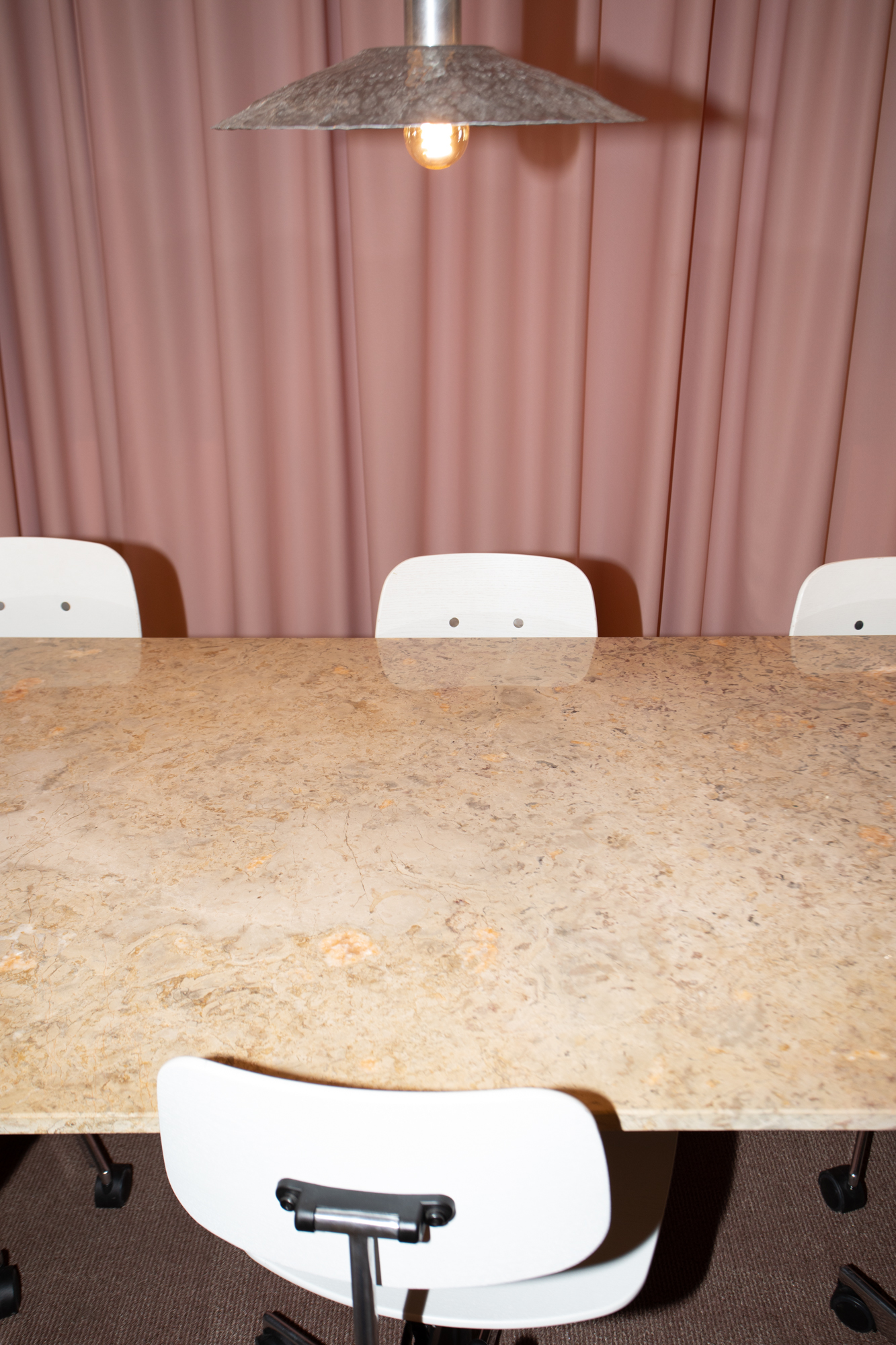 In essence, the custom made furniture and other interior solutions are made to be usable, versatile and multifunctional. Including blue side tables, made out of recycled and upcycled foot panels that were already forming part of the space when Folk overtook it. Spacon & X also created lighting elements: a spaghetti-shaped wire lamp and lamp screens in hand beaten stainless steel to create two shapes in industrial materials that simultaneously create a rather organic atmosphere. Essentially, A spatial design aimed to create a holistic experience of a space that has clear industrial references in an organic way.