FRIDLEV
Type: Shared Living
Client: Almenr
Location: Hvalsø, Denmark
Status: In progress, 2020

A VILLAGE FOR SHARED LIVING
Fridlev is a shared living village with a strong focus on community-driven sustainable living, developed in collaboration with Almenr, Peter Saaby Partners and the community of the future residents.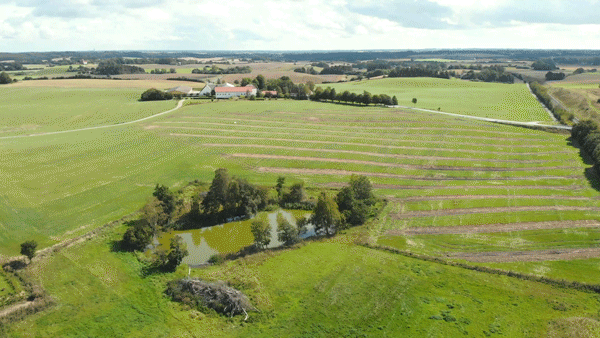 CLOSE TO NATURE
The Fridlev Village consists of 3 clusters. Each cluster is centered around a common courtyard from which you enter your house. The outer perimeter of the clusters contain the more private zones and face towards the beautiful landscape.

The life and community in-between the houses is created through shared facilities. 'Bakkehaverne' is a growing field for vegetable gardens with biodiversity, and 'Laden' is a big common house constructed as an open structure, like a big greenhouse, with great flexibility for a wide variety of activities. Lakes and green fields with sheep surround the clusters of homes, with easy access to forests and surrounding larger green areas.
FLEXIBLE M2
As part of a social and ecological sustainable strategy, Spacon & X have worked with reducing and optimizing the private m2 with a high level of flexibility and added cold m2, as green houses and terraces in the transition zones between private and common areas. These particular spaces respond to the sloping landscape and high grass to celebrate the relationship between buildings, landscapes and way-of-life.
The modular houses have a materiality concept based on natural, tactile and honest materials like wood, clay and upcycled elements. Incorporating solar panels, geothermal energy, and reuse of rain water also furthers the sustainable agenda of the Fridlev community village.