GEORG JENSEN - SHAPED BY SILVER
Type: Installation Design
Client: Georg Jensen
Location: Copenhagen, Denmark
Status: Completed, June 2022
Photos by: Hedda Rysstad
Awards: 3days of Design Awards, Best Exhibition
Georg Jensen, known for their high-quality craftsmanship and timeless aesthetic design commissioned Spacon & X to create an interactive experience and installation design for the 2022 edition of 3 Days of Design.

The installation called #ShapedBySilver with its design aims to highlight Georg Jensens' long history of producing and designing in silver and pays tribute to their most iconic pieces throughout the years. The installation is a celebration of craftsmanship and is striving to create a universe that in itself is shaped by silver. The installation employs digital elements to translate the experience into an interactive one, where the visitor becomes part and becomes one with the silver throughout the exhibition.
The experience is initiated outside their flagship store on Amagertorv where the window space has been covered by silver curtains teasing the visitor into the universe already from the street. At the very inception of the installation stands an interactive screen that replicates analogue and human movements into a ripple effect that translates into digital shapes. To enhance the experiene even further, the digital interactive screen is surrounded by a silver wall in mirrored steel in a curved shape and with clean lines to bring out Georg Jensen's own design language in the overall installation design. This wall is used to distort the experience even further and resemble the ways in which silver is made and how it often creates similar distorted reflections. A tribute to the craft by upscaling it.


As the installation continues, Spacon & X designed exhibition podiums that have taken their inspiration from nature in accordance with Georg Jensen's own fascination with natural shapes and forms, with a raw and honest expression. Silver podiums accentuate Georg Jensen's most iconic products, while black podiums with Japanese references in their design highlight the launch of GJ's collaboration with the award-winning Japanese architect Oki Sato and his design studio: Nendo.
To enhance the ShapedBySilver universe and its storytelling even further and to continue the exploration of the intersection of the real and artificial, digital assets in the form of video content were created by Spacon & X. The video material created highlights the techniques employed in the process of making silver items, in which you add a black shadow around it. As such, the experience of the installation itself embodies the full spectrum of silver in a variety of ways.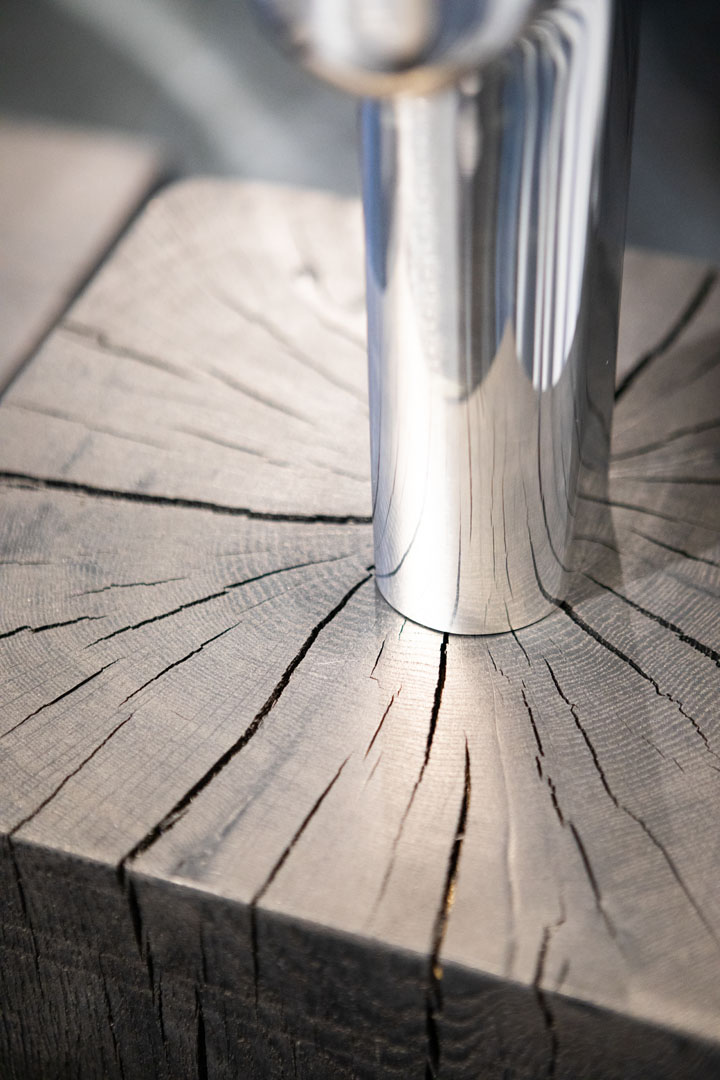 "Through the lens of Georg Jensen and its long heritage of crafting silver, Spacon and X were asked to convert the perception of the material's characteristics into its full spectra. Facilitated by a digital translation combined with the reflections of physical objects, we have created a universe that abstracts and transforms the qualities of the material in an experimental manner. The installation has resulted in an interactive experience embracing the full embodiment of silver that celebrates Georg Jensen's long history as well as challenging spatial boundaries that explore the intersection between the physical and the digital."

Malene Hvidt, Architect & Partner at Spacon & X