LYNK & CO
Type: Retail Design
Collaborator: Lynk & CO
Location: Düsseldorf,
Status: Completed, December, 2022

Photos by: Lynk & CO

Spacon & X was invited to design the Lynk & Co club in Düsseldorf, and it was clear that tradition or compromise were not to be considered. Lynk & Co stand for a new direction in mobility - a radical take on the car dealership, requiring a never-seen-before direction in spatial design. At Lynk & Co you do not buy a car - you become a member of the club. In order to create a spatial expression for this club, Lynk and Co had the ambition to create a community and lifestyle going beyond the conventional. Spacon & X got the opportunity to work spatially with expressing the diverse scenarios within the physical store in Dusseldorf.
The store comprises a serene conversation room, a blood-dripping bathroom, a cave carved from cardboard and a changing room filled with golden orbs are among the many fragmented universes making the Düsseldorf club extravagant, mind-bending and otherworldly in its contrastful rooms, creating a unique experience for its visitors.

The bright, yet warm wooden dressed meeting room, with a dead tree as a central pillar with daylight that transpires through a roof window stands in stark contrast to the rough concrete car display area with a light chain curtain dividing the spaces.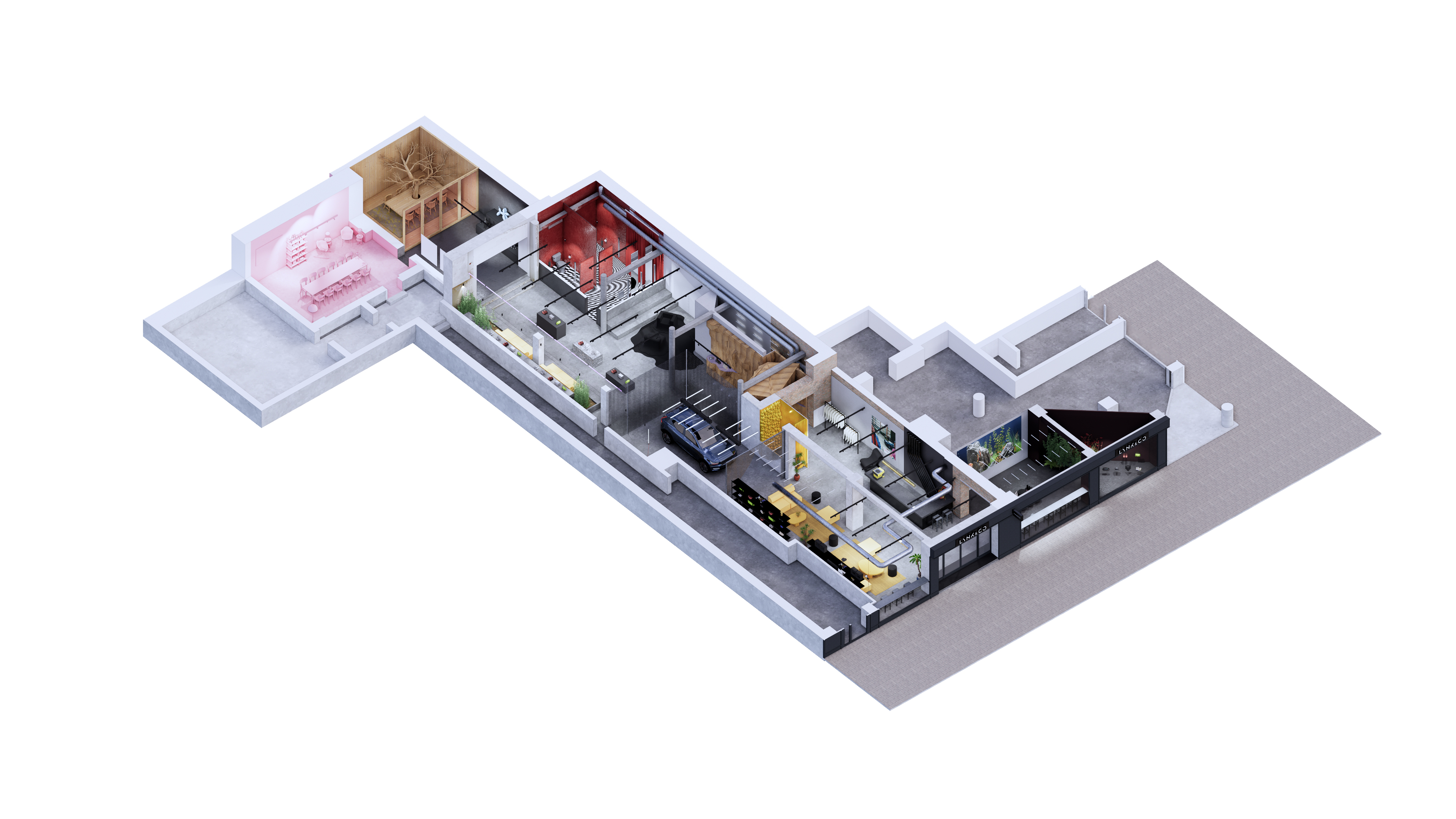 A morphed, melting furniture lounge area connects the impactful cardboard passage between the entrance area and stands up against the golden dazzling champagne fitting-room. Matte rough stripped walls, meets high-gloss, while function still becomes what is central. The red 'disco' bathroom contains a disruptive flooring embracing the movement of the light from the disco ball attached to the wall. A spatial design that embraces the uniqueness of the Lynk & Co car dealership concept.