MARIA BLACK
Type: Digital Art Direction
Client: Maria Black Jewellery
Location: Copenhagen, Denmark
Status: Completed, February 2022

Photos & Visuals by: Spacon & X





Danish jewellery brand, Maria Black, collaborates with Spacon & X to create a visual exploration in the intersection between digital and physical design.

The two brands collaborated to create an interactive experience through which the Maria Black customers of the jewellery brand will be able to explore their commitment to implement and scale responsible and ethical sourcing.

Among Maria Black's efforts to source responsibly, we can find the implementation of IMPACT gold, an alloy of 30% 14K Fairtrade gold and 70% 14K Recycled gold, switching from mined to lab-grown diamonds, and only using 100% recycled 924 sterling silver.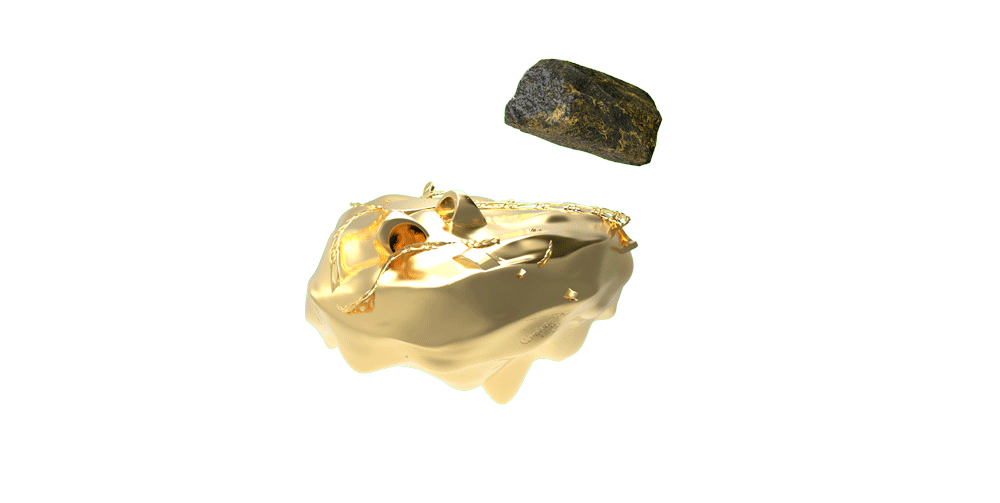 The work created is essentially a storytelling exercise; with an intention to spark curiosity about material lifecycles and our interactions or interventions within these life cycles. Working with digital and physical assets simultaneously allows for a high level of complexity to be translated effectively; while also engaging physical textures and scales that allow a human interaction which is often lacking in purely digital experiences.

In this instance, the parallel design of both digital and physical elements has provided a sort of interference whereby some of the physical elements are produced solely as a canvas for the digital media to exist meanwhile the digital media has given birth to 3D printed physical touchpoints. The different assets include:



QR codes: created as stickers which are placed in the jewellery boxes, customers can then scan the QR codes which open an Instagram filter that with AR displays the jewellery material's specifications. A total of three codes were created; IMPACT gold, recycled silver, and lab-grown diamonds. The three materials provide their own stories and properties to draw inspiration from. Then there are also thoughts about the human intervention that takes place when each material is worked and crafted to become a piece of jewellery. The mining, recycling and growing along with processes of melting, casting and refining are what primarily inform the filters. The filters in turn are designed to give an insight into those processes taking place.
Screens: with a retro-futuristic look the screens work as an in-store canvas for the digital media assets to exist across Maria Black's various locations throughout Europe. The physical touchpoints we have created consist of freestanding mirrors with integrated digital displays that appear as a double exposure. The mirror has the conventional function in a retail setting to try on jewellery but the added digital display provides a canvas to showcase everchanging visuals.
Video: The visuals developed for these screens play into the ongoing storytelling about the materials used in Maria Black jewellery. Behind the scenes clips give us a window into what goes on at Maria Black's Copenhagen headquarters. This layered with a mixture of digital and filmed visuals create a mood board type representation of the inner workings at Maria Black.





3D printing: sustainably 3D-printed jewellery supports which represent IMPACT gold, recycled silver, and lab-grown diamonds, this last being a replica of the base used to create lab-grown diamonds.
For Spacon & X's team, this work has been an explorative process of unpacking the material narratives and finding ways to translate them. Many digital experiments resulted in a way of modeling and visualising each material story and from there the project expanded. The digital tools used contribute their own textures to the visual aesthetic similar to how analogue techniques leave traces.

The workflow included experiments to introduce unpredictable forms and textures. These lead to ideas of how to represent and formulate the narratives in play. The digital abstractions can at once offer concise translations of these narratives along with resulting in intricate and fascinating aesthetic elements.
This has been an atypical project for Spacon & X, as a regular project would usually involve working with a wide array of digital tools, but almost always with a view to describe something that should be produced physically. The difference here was that they took the digital further and it became an integral part of the output. Working on a digital delivery has the added freedom of being liberated from the physical and material constraints that Spacon & X are used to working with. With this comes great potential to work with greater complexity and abstraction.