MOLO

Type: Office Design
Client: Molo
Location: Copenhagen, Denmark
Status: Completed, June, 2022

Photos by: Hedda Rysstad

The fashion brand Molo, known for their imaginative, responsible and innovative kidswear commissioned Spacon & X to create a spatial design for their office and showroom. Molo wanted to create a space with a strong sense of spatial character that responds to their brand identity to create a full ''Molo experience''.

With a simple and systematic design, based on the needs and functions required, a family of furniture were designed and produced by Spacon & X to enhance the workflows and functions at the HQ of the clothing brand. The furniture designed has focused on carrying identity and function where these two elements have been the guiding principle of the design. A range of designs where function and identity determines shape and scale.

The furniture was created within a selected framework employing the same four different kinds of materials to optimize such use. The primary materials used include stained plywood, aluminum, polycarbonate and acoustic sea-weed from the local distributor Søuld that produces functional and sustainable alternatives for the construction industry. Based on integrating such materials, the spatial design of the office space includes elements such as acoustic room dividers that enhances the spatial division as well as by integrating light-tubes into shelving systems in order to enhance the spatial experience of the space.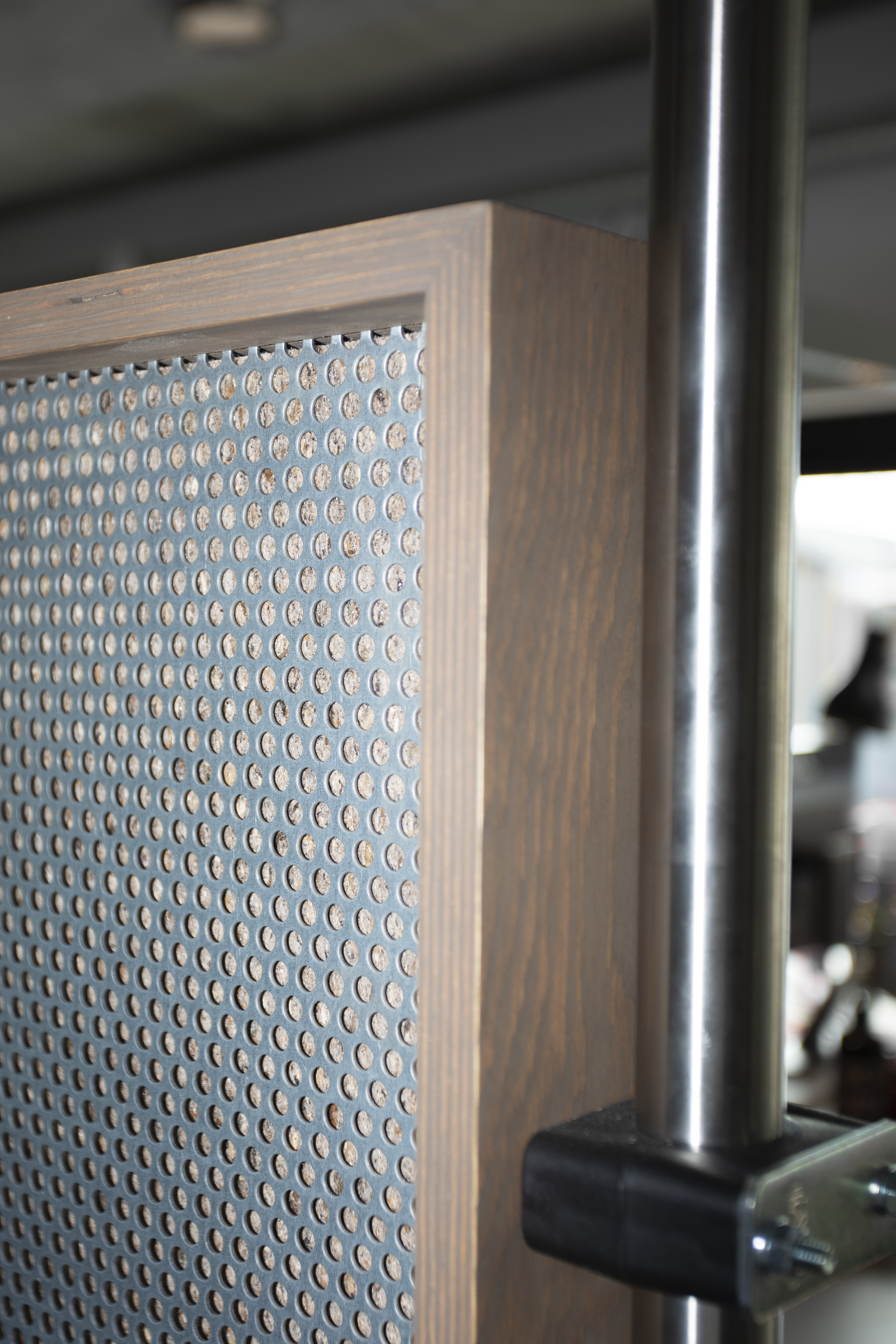 The furniture and spatial design takes a playful approach throughout the office, and the spatial division is enhanced by colour coding according to the various units and functions within the office. To enhance the spatial identity even further, signages in polycarbonate with angled light tubes have been used to highlight Molo's graphic language and logo. While sheer curtains and its tactile textures have been utilised to add pleasant and colorful atmosphere that simultaneously layers and divides spaces.
The modular and mint green shelving systems in pine plywood are designed with polycarbonate in the middle in order to separate shelves to give space for personal storage whilst also creating privacy and focus.
In Molo's showroom, light signage has been used to impact different sight lines of the space and to divide the clothing displays. Light backdrops with polycarbonate have been used to further magnify some of the selected displayed clothes. Soft, organic and curved in its shape, the round shape of the clothing rack that displays throughout the room, makes the space appear in a less static shape. The showroom is also equipped with mobile podiums to enhance the flexibility to arrange the displays in various ways. Moreover, to meet the needs of the space, meeting tables were designed to be moveable including storage space that gives a flexible view and allows for cross-collaboration.