SIECH
Type: Bicycle Store
Client: Siech Cycles
Location: Zürich, Switzerland
Status: Completed, August 2021

Area: 110 m²
Awards: Frame & Dezeen Awards Longlisted
For the design of Swiss bicycle brand Siech's first flagship store, Spacon & X took inspiration from the bike itself. The interior combines a mix of hard and soft components, revealed in a direct expression of functionality and materiality. A retail store that combines a bike workshop, retail store and event space in one.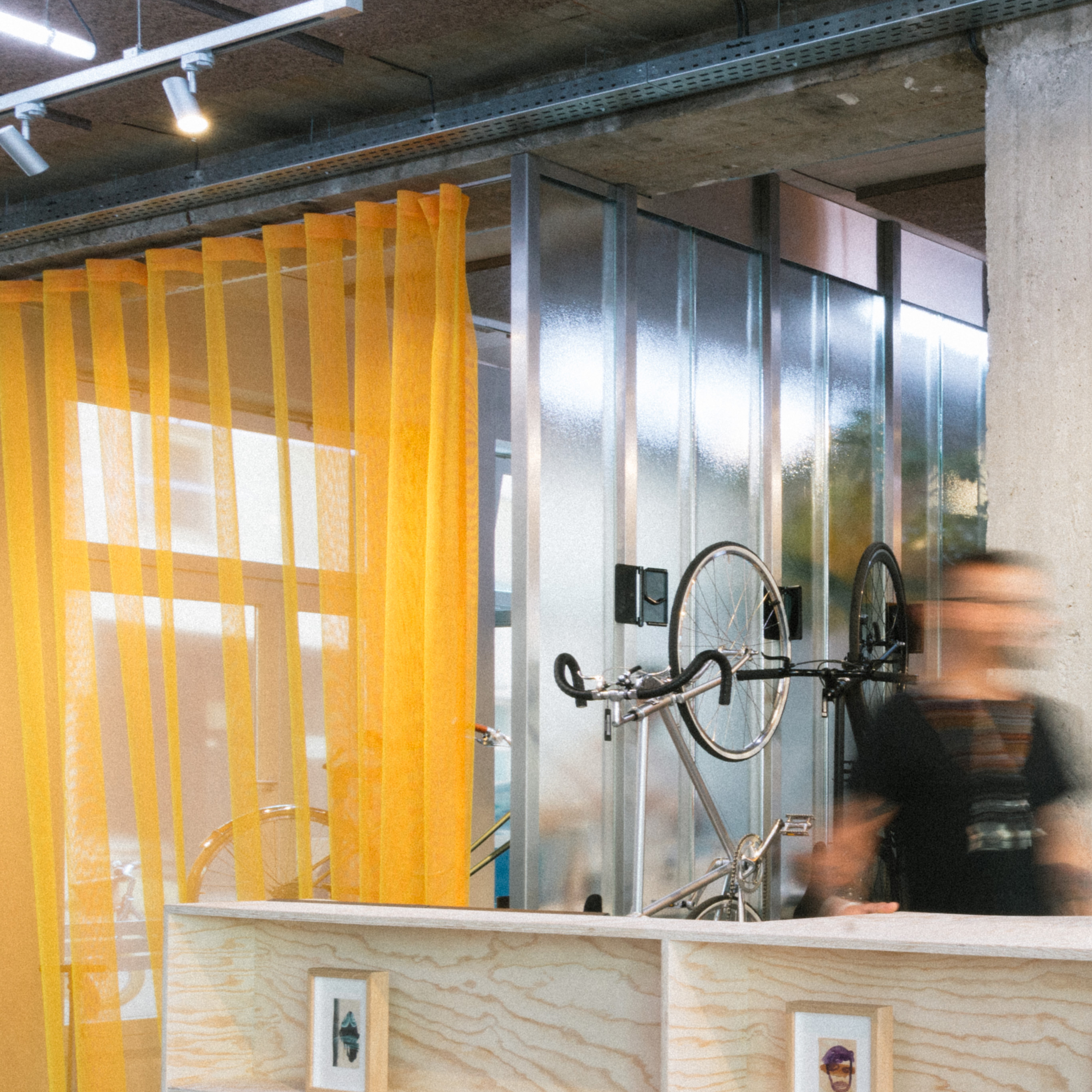 Spacon and X were enlisted by Siech to design a retail store that could support their idea of being a bike community which includes the idea of an original bike shop with a workshop and hangout space. An essential part of this project was to create a spatial identity that combined a soft and welcoming atmosphere with a raw and edgy vibe from a workshop.

A curved cash desk in untreated plywood meets you when you first enter the space. Behind the counter a tree functions as a centerpiece in a glass and aluminum table that invites you to sit and enjoy a coffee on the aluminum stools. The raw aluminum stools are born from the existing architecture. A u-profile glass wall is subtly reflecting hints of the activity going on behind in the workshop area. In the other half of the room, bikes are displayed in the light aluminum shelving systems. The shop floor is treated in different materials such as raw concrete, plywood and shiny black epoxy flooring to differenziate zones throughout the space.
Taking sustainability into account, the acoustic ceiling panels are made from eelgrass that are applied to the ceiling throughout the space, to reduce noise and to bring a soft, natural aesthetic that contrasts with the concrete, raw aluminum, stainless steel and pine wood. The shelving system in untreated aluminum, (as a central element) was carefully designed to display the Siech bikes in a variety of ways. Orange strings suspend the bikes in the air, and a simple and delicate detail on the aluminum shelves upholds the bike in a rigid system. In combination with the raw aluminum on the different furniture elements, pinewood is used for the central counter and as a wall cladding framing the different retail solution, bringing in a warmth and soft touch to the atmosphere. Alongside the two materials, Orange curtains are used to accentuate room division in the vibrant space.

Spacon & X wanted to create a multi functional small retail space that encourages interactivity, social encounters and beyond.