'THE JUNCTION' A ZERO WASTE COMMUNITY TABLE

Type: Temporary
Collaborator: 3daysofdesign
Location: Denmark
Status: Finished, 2023
Images by: Spacon & X
'THE JUNCTION' _a point where two or more things are joined.
Spacon & X and 3daysofdesign created a 30m long table, assembled from repurposed materials that was brought into the project by our collaborators. This installation served as a unifying centrepiece, effectively revitalising an underutilised area. Our aim was to extend a gracious invitation to both local residents and visitors alike, encouraging them to engage, connect, and gain profound insights within this distinctive and inspiring community.
"Spacon & X has been invited to collaborate on introducing a new design district for 3daysofdesign. Mapping out Refshaleøens area and its DNA, The Junction breathes life into an unutilized area, making it a centralised meeting point along the main street. We wanted to embrace the industrial and raw nature of the district, by only using borrowed materials from local producers to create a zero waste community table." Nikoline Dyrup Carlsen, Co-Founder, Spacon & X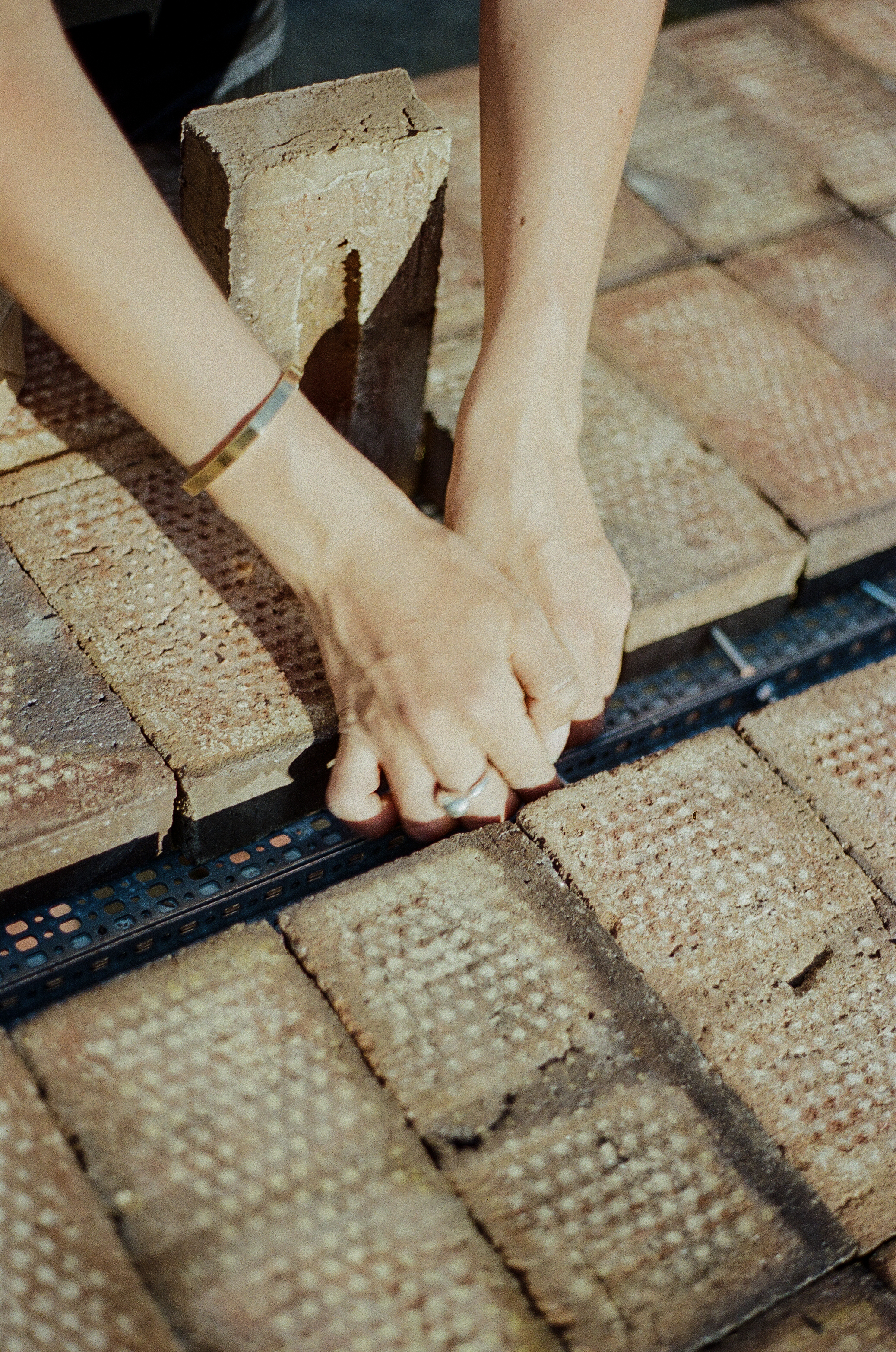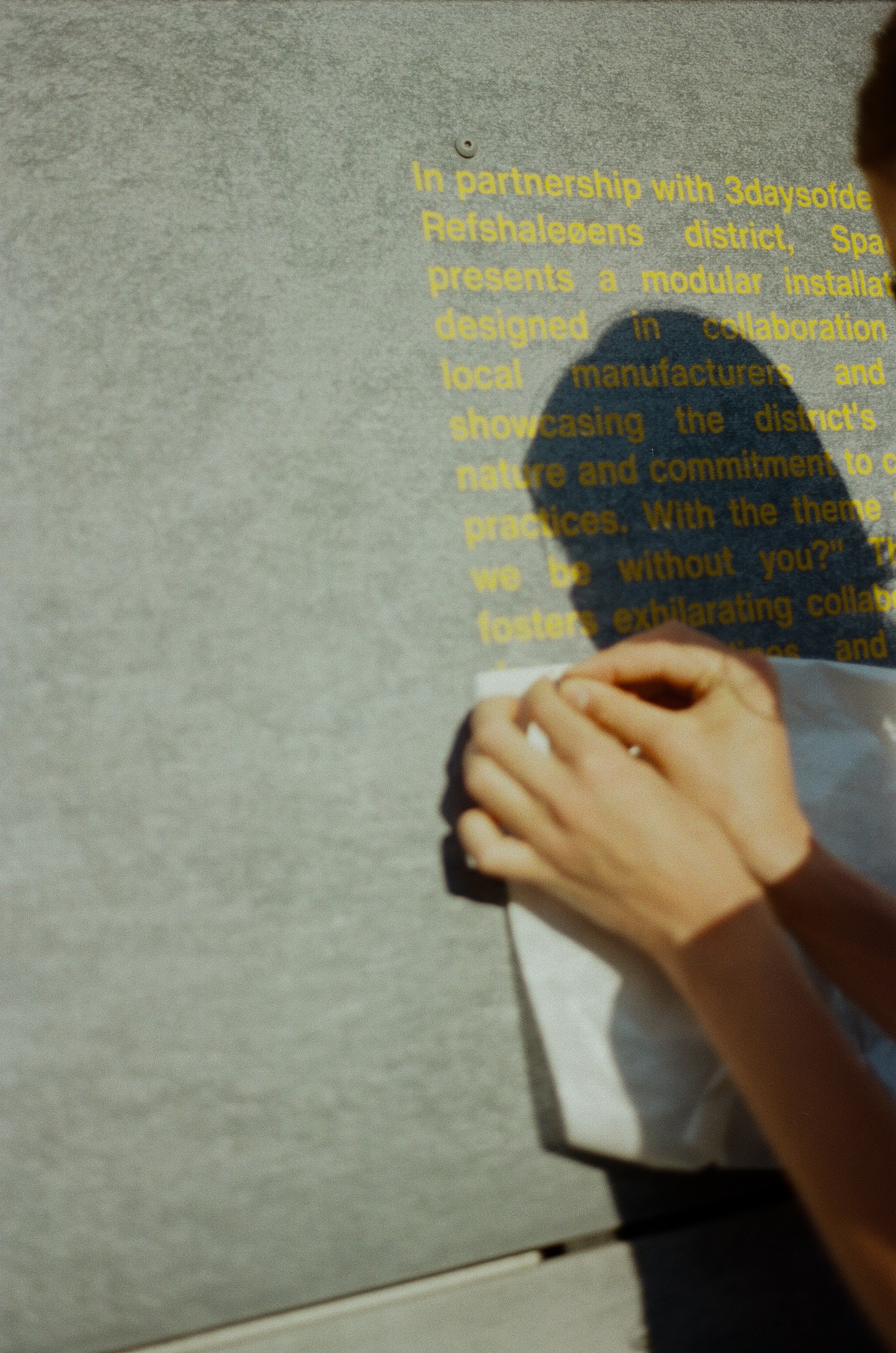 Spacon & X presented a modular and mobile installation. It was designed in collaboration with the local manufacturers and craftsmen, showcasing the district's collaborative nature and commitment to circular design practices. With the theme "Where would we be without you?'' This installation fostered exhilarating collaborations across design disciplines and beyond.




The main installation was a 30-meter long table built from borrowed materials that was returned after the festival, ensuring a waste-free design. The surface was a patchwork of the natural warm and varying clay bricks, borrowed by the well-renowned manufacturer Petersen Tegl, creating a tactile raw and lively table top, to gather people around. The base was created as a rack system in an assembly/disassembly system, where all materials were borrowed from the local factory of Barlby Carlsson, used to create a lightweight load bearing table base.

Spacon & X crafted a modular and temporary installation, exemplifying diverse building and design methods while emphasising circular materials. The lightweight aluminium base, supporting the substantial warm bricks, created a captivating contrast. Placed along the main strip of Refshaleøen, the long table made the industrial and raw surroundings inviting, accessible, and democratic.

Refshaleøen district serves as a vibrant creative hub, offering visitors a profound sense of connection and community. It also highlighted artisanal craftsmanship and natural materials, focusing even more on the renewable and circular ways of working with design. Spacon & X had ingeniously designed a modular and mobile installation to showcase the district's cross-collaborative essence. Through the installation, visitors were able to experience the true essence of unity and community.
One of the events held at the Junction was a long table dinner, filling up the entire 30m long table with 80 guests. Spacon&X teamed up with +Halle and Kvadrat and hosted a beautiful evening of good company and delicious food.
In the weeks leading up to 3daysofdesign we reached out to our community through an open call invite for young creatives to propose activities for the table about materials and about togetherness. 'The Junction' came to life through a series of events, where the winners of open call in a match with more established firms activated the long table.
With a strong emphasis on quality craftsmanship and circularity, Spacon & X embraces different practices and fosters discussions around responsible design. The table that was created served as a collaborative canvas, inviting participants to explore and co-create together.





"The long table represents the diversity of the surrounding design community and acts as a meeting point. Constantly seeking out new possibilities, pushing boundaries in the world of design, it felt natural to make this installation as a manifestation of the honest and fearless approach of Spacon & X. Embracing the beauty of organic imperfections and the raw quality of materials." Nikoline Dyrup Carlsen, Co-Founder, Spacon & X