TUBORG AT ROSKILDE

Type: Temporary
Client: Tuborg
Status: Completed: June, 2022
Photographs by: Spacon & X
For Roskilde festival's 50 year anniversary Spacon & X were invited by Tuborg to create an impactful profile bar that created a unique experience at one of the world's most well-known festivals. Tuborg had a clear intention of celebrating the relaunch of their new brand colors, a gradient of a variety of greens.This as the brand is built on its well-known color and clockman symbol that yields a sense of community and 'fællesskab'.
Against this, Spacon & X created a design with a high degree of durability, flexibility and scalability. A multipurpose system that allowed us to connect our design with the scaffolding system. By employing the technique of decorated scaffolding, the bar could both benefit from having a simple construction where every element could easily be attached and detached that suits the nature of the festival and its increased focus on circularity. Working with scaffolding structures allowed the design to be playful given its flexible and scalable nature that allowed for creating our own construction principles.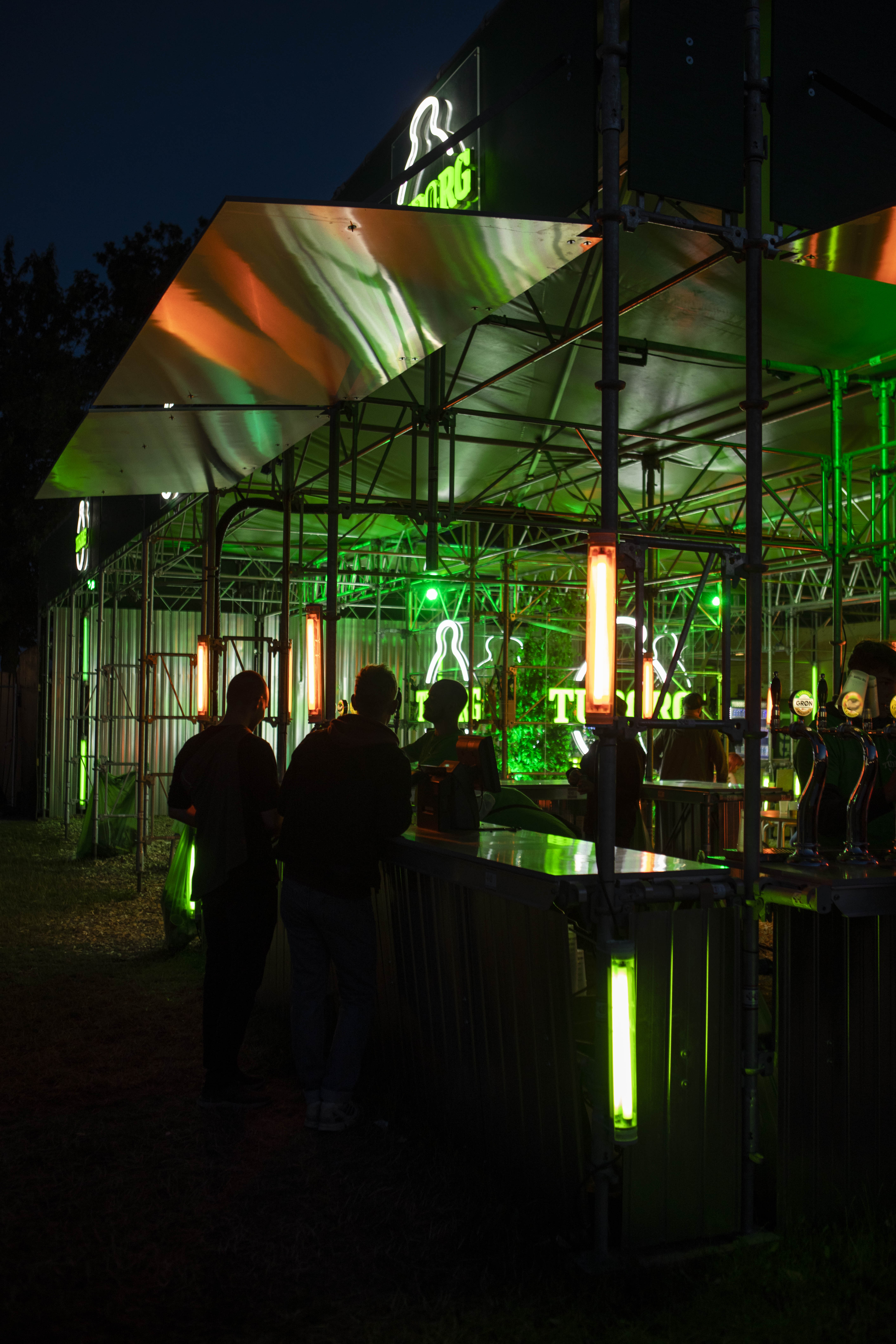 The tubular lightning, made by Mads Vegas, as well as the green roof, green panels created the sort of profile bar Tuborg were looking for, while respecting the nature of the festival and celebrating Roskilde in its warm orange tones. The seating elements were sponsored by Plus Halle, known for their ways of challenging the status quo of the traditional branches of furniture design. By combining the simplicity and rawness of the scaffolding structures, the reflections of the light installation and the industrial inspired chairs, the design aimed to create a synthesis of context and function in an unconventional way that elevates the experience for the Tuborg and Roskilde visitor.