WOOD WOOD SOHO
Type: Retail Store
Client: Wood Wood
Location: Soho, London, UK
Status: Completed, November 2019
Area: 493 m2
The long-lasting collaboration between Wood Wood and Spacon & X has fostered a wide range of retail solutions such as shop-in-shop, trade fairs and flagship stores around the world. Spacon & X is pleased to reveal the newest addition to the retail range; the first Wood Wood store in London (UK).

"We feel a foundational creative synergy with Wood Wood in our mutual curiosity and honesty in the work with materials and construction methods. We also share a constant drive to push the envelope and come out with something new and weird, yet relatable and familiar. Wood Wood had the initial idea of creating a space to stimulate curiosity through four different spatial stories, leaving the visitor guessing what would hide around the next corner. We took this quite literally and took a playful approach to come up with unfamiliar structures using standard and familiar materials."

Svend Jacob Pedersen, Partner, Spacon & X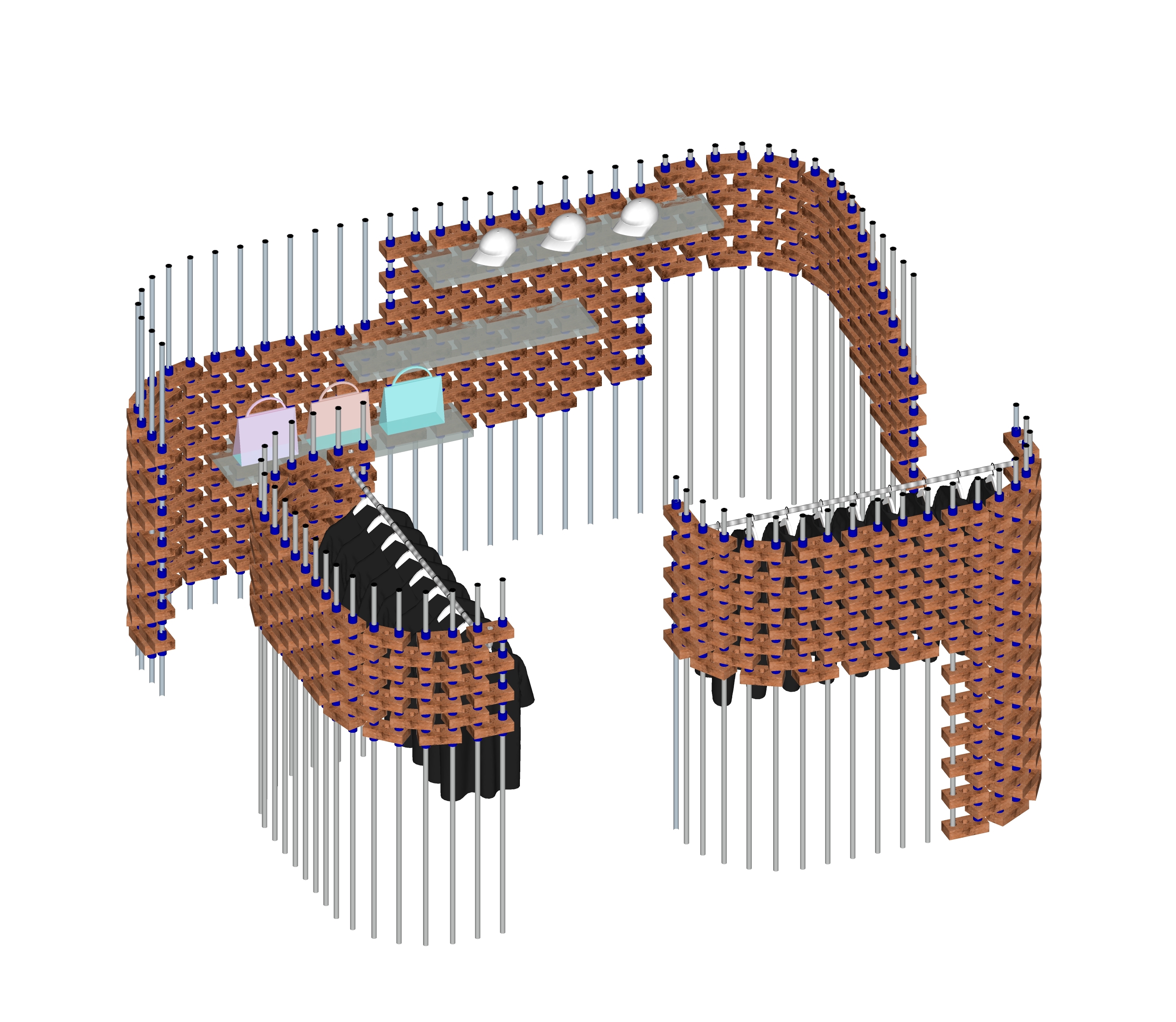 The Wood Wood universe is raw and honest. A guiding attitude through the continuous collaboration between Wood Wood and Spacon & X and the new locations is no exception.

"The Collab Space is a good example of how we've used standard materials to create an unfamiliar structure. We wanted to give regular heavy bull-nose brick and unexpected light and floating expression using them as chain links in a curvy structure of vertical tubes. The bricks appear as a cloud-like semi transparent floating division, with the purpose of stimulating the visitor's curiosity to enter the structure."
- Svend Jacob Pedersen, Partner, Spacon & X

The new Soho location express Wood Wood as being, not only a fashion brand, but a contributor to culture and lifestyle. The store has a natural transit between cultural expressions, fashion purchases and signature interior components. In the collab area and exhibition space new interpretations of lifestyle, culture and aesthetics will be revealed right next to the large selection of sneakers, the capsule assemblage and off cause the current Wood Wood collection.

The store shows the brand's own collections as well as pieces from a wider selection of brands.
London and Soho is home to some of the best and most intriguing retail spaces and with Wood Wood opening a flagship store, shopping will get even better for the inhabitants and visitors of the area. Wood Wood's sophisticated charm and eclectic brand mix will no doubt be a great addition to the already exceptional shopping possibilities Soho has to offer.